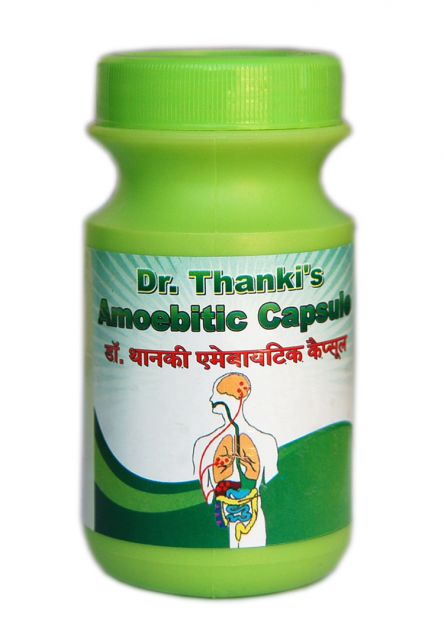 Dr Thankis Amoebitic Capsule
It works in all kinds of stomach disorders. Generally, in tropical climatic Countries there is acute problem of Giardia and Lambia which causes loose motion, Constipation, indigestion, nausea, vomiting, irritation, irritable bowel Syndrome etc.
Herbal Ayurvedic Medicine For Amoebiasis

It works in all kinds of stomach disorders. Generally, in tropical climatic Countries, there is an acute problem of Giardia and Lambia. Which causes loose motion, constipation, indigestion, nausea, vomiting, irritation, irritable Bowel Syndrome etc.

If the treatment for amoebiasis is not taken correctly in time, it may get converted into Spru "sanghrahani" disease.

There is too much pollution in the air and water.

The disease spreads fast almost everywhere in a Village as well as in a city.

The drugs available in the market this disease are unable to remove it completely, or they did not work on them for a long time, and hence, it repeats again and again; whereas in Ayurveda there is perfect treatment so that the person becomes free from the disease completely

Dosage:

For General Patient:

Two capsules twice a day with water.

For Chronic Patient:

Two capsules thrice a day, with water

These capsules should take after meals.

Avoid:

spicy food, oily food, fatty food, junk food, more milk.

Should take:

Curd, Buttermilk Psyllium Husk (SAT Isabgol), with water.

Advice:

We advise a patient to take this medicine for at least six months for permanent cure

Key Ingredients

Loha Bhasma

Shankh Bhasma

Mesua ferrea

Piper Nigrum

Piper longum

Zingiber Officinalis

Cyperus scariosus

Glycyrrhiza glabra

Tachyspermum ammi

Salmalia malabarica

Holarrhena

Cumulative effect:-

As we know that the mixture of herbs and shrubs and Bhasmas are giving effect after internal reaction with each other, and thus we get a result.

Here are some herbs which directly written in books as anti dysentery and anti amoebiasis, But some are not mentioned directly. Still, they found it useful when they meet with some other ingredients.

Avoid:

while getting treatment, the sufferer should avoid oily and spicy food.

Milk also generates mucous, so direct milk in any form avoid to get fast result.

From The Desk Of Chairman

It is a disease that occurred in about 62% population of India. As we have fast and clumsy life and our brain is penetrating fast by the atmosphere or job. As the government fails to supply healthy, safe drinking water as per BIS norms 10500 to 75%population of India.

In the village, people are bound to take drinking water from the pond where cow buffalo are taking a bath. Junk food is also a cause of it. When it removes out undigested, it hampers in the gut, and sometime it may cause to peptic ulcer.

Secondly, the sufferer body becomes ill and will loose his weight.

The main problem occurred if amoebic remains in a patient Body for long; he may suffer from irritable bowel syndrome.it is now well developed in the city area.