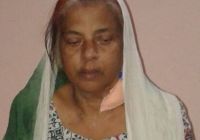 Story Title : SHOBHA RANI-Kidney Failure-62yrs- ( 17times Dialysis)-CKD
Patient Age : 62 years old
Date : 05-11-2014
Name:- Shobha Rani Age:- 62 Years Add:- New Delhi
Disease Description:- Both Kidneys are Irregular-Echo texture increased.
Treatment Given:-
1.Dr.Thanki's Kidney Care Capsule:- 3cap x 4time a day=12cap daily with 'Anupan'made by our 'Trio Herbal Extract:- 500ml daily.
2.Chandra Prabhavati:- 2cap each time (Morning & Evening)=4cap daily.
3.Advice:- Strictly Follow Diet Chart
Patient Review
Reviews from "Sevaram on Behalf of His wife " Shobha Rani"
My name is Sevaram s/o Tarachand from shamli, U.P. My wife name is "Shobha Rani. My wife is a diabetic patient since last 20 years. Despite diabetic patient, she did all the house work well without any problem. Suddenly, on dated Sep 2014 she got a viral fever then we went to max hospital, Delhi for treatment of my wife. After tested all necessary reports the doctors told us that "your wife's uric acid and creatinine level increased and kidneys were not working properly so your wife will have to dialysis then we asked "how many time"…? then they replied that "given one dialysis and will see but they did dialysis 5 times in 15 days then they discharged us from hospitals and advised for underwent dialysis every three days.
Then we went to another hospital and they said that, there was water in your wife's lungs then there was also did 3 time dialysis.
After some time we got information about "Vishla Agrotech (P) Ltd,Bikaner from a patient from sahadara, Delhi. Then we start take medicine from this company for my wife. During this treatment, we did not require for any dialysis till one month and after 40 days we did only 1 dialysis.
One day company's doctor met us at Delhi and did blood test and sonography and found that, my wife's both kidneys were damaged but size was normal and ok. So doctor gave advised for take 12 capsules of Dr.Thanki's Kidney Care Capsules daily.
Almost 1 most my wife started vomiting so that we did dialysis. After that doctor gave advised for take 11 capsules daily. My wife was complaining of constipation and after dialysis seemed appetite and after some days hunger was checked off. So we contacted to the doctor and he came to Bikaner for check-up. And here, doctor tested her and found out that there was infection in blood. So we started antibiotic (injection) for stop the vomiting as per doctor advised and also giving some other medicine for constipation.
After came Bikaner, my wife taking food properly and her hunger is increased. Now we are giving 10 capsules daily of Dr. Thanki's Kidney Care Capsules as per doctor advised. Urine and power increasing and she started walking. Doctor told us that, unless your wife is not cured you cannot go from here. We also agree with the doctor.
I will write my experience again on next visit of Bikaner.
SEVARAM
18.12.2014