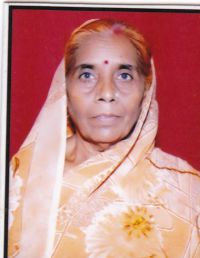 Story Title : Jyanti devi-59yrs-CKD -PKD-Kidney failure
Patient Age : 59 years old
Date : 22-12-2017
CKD -PKD-Kidney failure Patient Review
Patient Reviews: My name is Haribhushan Upadhyay s/o Sri Ramnath residing of Meerut U.P. I am writing about my mother, Smt Jayanti Devi.
My mother is 69yrs old; she never suffered from any crucial problem in her whole life. 4years back she felt some gastric pain and stomach pain, we went her to Dr they investigated and found some stone in the gall bladder, and as per Dr advised we removed it. After that, she was OK; there was no any problem she felt. After two years back, she felt some pain in the kidney; we immediately contacted Dr and found both kidneys damage after an investigation.
That time we did not know that there were cysts on the kidney, we just considered a kidney problem. We went to Nephrologist Dr Pradeep in Meerut he was prescribing medicines to her, and so far we are giving treatment to her till today. Just 20 days back her urine came in drops .we again went to Dr the Dr gave some medicine and urine passed as usual, but it started swelling in face and leg which is still there on her body.
During this period I met with a Dr who is running a medical shop in Baraut named Rajendra he gave us the address and mobile number of Dr Kochar of Bikaner. He told that Dr Kochar of Bikaner is treating well to kidney patients his known and all are successful he told his result is 100%. So I took all reports and came to Bikaner today on 20.12.17 and met with Dr Kochar he saw all the Reports and told me that my mother is a patient of polycystic kidney patients.
He explained there is a lot of cyst on right kidney and a giant cyst on the left kidney, which increased compared to the previous size and for this cyst her both kidney damaged. At present, the other reports show normal except an increase in uric acid level and less of Hb. The Dr Kochar said us the cause of formation of stone in gall bladder was also a high level of uric acid, and as the kidney is not working, so the formation of new blood is stopped.
My father aged 75 yrs is quite OK except he met with heart stroke and made bye-pass surgery of heart he is taking medicine except for some minor problem he is quite well and spending his life with good health.
We are two brothers and three sisters, and all are married and with sound health and kids. As Dr Kochar explained, this is a genetic problem. So, i.e. maybe in the mothers' own family or with kids, he advised to be cautious and make USG abdomen of each member of my family and my maternal family.
As per Dr Kochar, my mother's case will come under control, but for cyst, he advised to contact any homoeopath practitioners as the best and effective treatment with those Dr only.
He continued Dr Pradeep medicine add his dr Thanki's kidney care capsule two capsules with Anupan thrice a day. He advised me to come to my mom in summer to Bikaner for a check-up.
Patient Review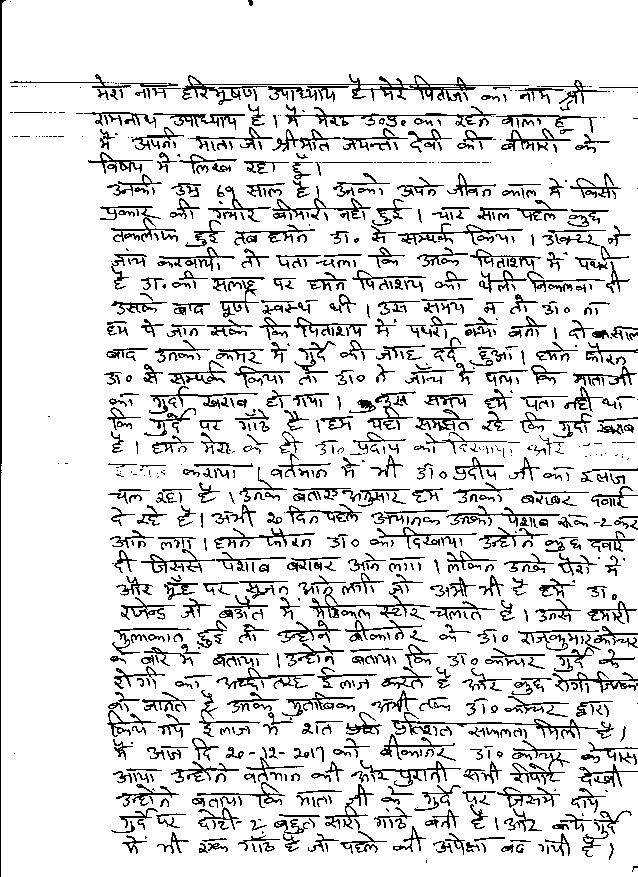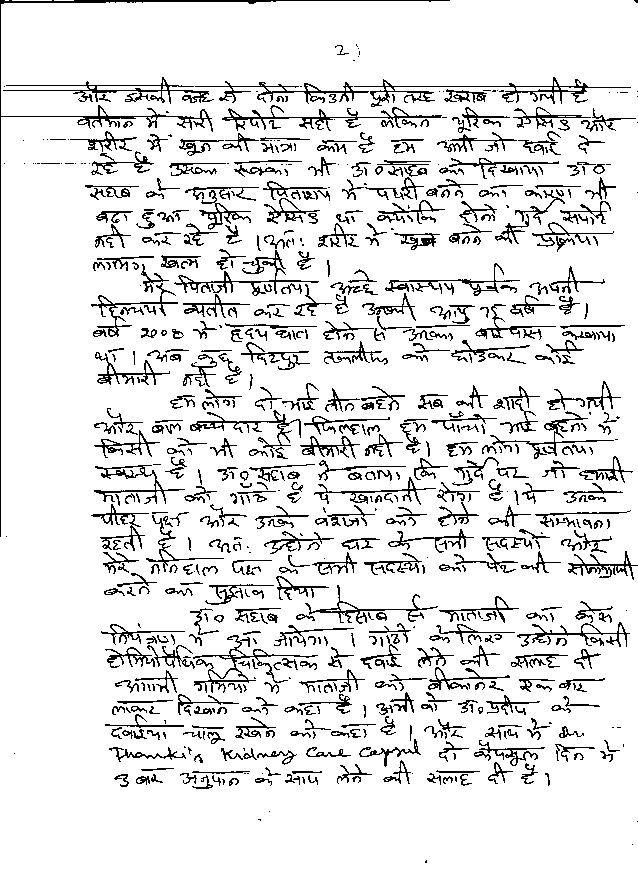 Patient Reports